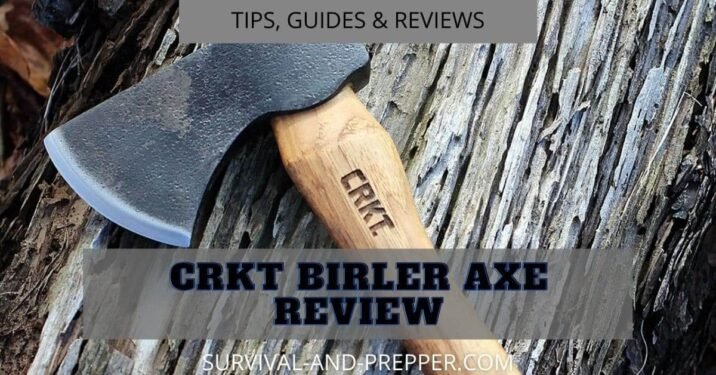 CRKT Birler Axe Specifications
Laser Sights for your EDC
The CRKT Birler Axe is manufactured by Columbia River Knife and Tool. The base specifications are as follows:
Length of Blade – 3.7 inches
Blade Steel – 1055 Carbon
Finish on Blade – Clear Lacquer
Blade thickness – 1.11 inches
Overall length – 16 inches
Weight 1.14 lbs
Handle – Tennessee Hickory
CRKT Birler Axe Benefits
When considering an axe you need to keep in mind what your intended purpose is. This particular axe makes a great pack axe, while it would not be any good for trying to split wood. Its smaller size allows it to easily be strapped to the side of the pack and carried with ease.
The materials the axe is made from go hand in hand with its purpose. An axe is designed to cut by impacting with the wood. This particular one is made from 1055 Carbon steel. This steel excels as an axe due to its high impact strength and ability to hold an edge. The only real draw back with this steel is that it may stain easily which is not of concern in most axes.
The Tennessee Hickory handle will ensure lighter weight but long life. In addition to the light weight provided by the handle the grains run up the handle increasing the strength of the handle.
The next thing to consider is the actual weight. This is important as a heavier axe will cut easier but require more strength for prolonged use, while a lighter axe may take a few more strikes but will require less effort to swing it. Another factor in regards to weight is the need to carry the item with you. Since this particular axe weighs in at about 1.14 pounds it is considered fairly light and should not add much to your overall pack load. To provide you with a rough weight check a daypack should weigh no more than 10% of your weight, while a backpacking backpack should not exceed 20% of your total weight.
Five Great Fly Rods and Reels – Plus How to Fly Fish Video
CRKT Birler Axe Reviews – By other customers.
While I have not purchased this axe for myself as of yet based on the above information and reviews that I am seeing I am considering making the purchase. It receives an above average rating on Amazon with the main complaint being that the handle is not very well fit to your hand.
Overview
Based on what I have seen if you are looking for a small hatchet style axe made from a decent quality of steel then this may not be a bad purchase. If you're interested in picking one up it can be found at my friends over at Vipertechknives.com or at Goinggear.com
Make sure to check out our other gear reviews located at Tips & Guides.