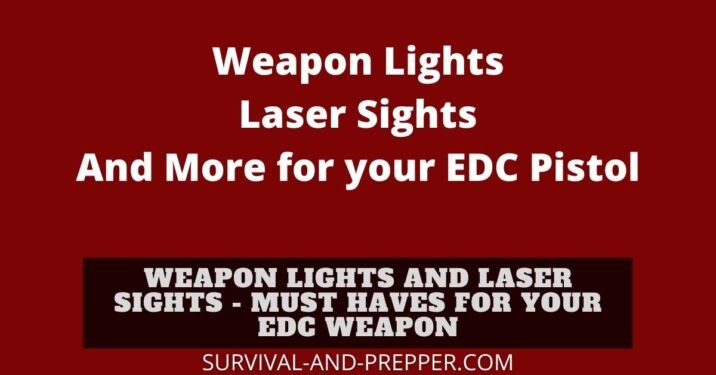 Many people consider Weapon Lights and Laser Sights to be required equipment for their handguns. On the other hand there are shooters who prefer not to have them claiming that they throw off their aim or are to prone to malfunction. However, it is nearly undeniable that having extra lighting in a low light situation that enables positive target identification is invaluable.
Join the Personal Defense Network today!
Read on for a list of 6 top performing weapon lights and laser sights
Laser sights allow you to quickly get on target with minimal aiming, they also tend to eliminate the difficulty that some shooters have with focusing on the sites. This will allow average or below average shooters to improve their aim and lower the time it takes them to get on target.
As mentioned already a weapon light ensures that you will have adequate light to obtain a positive target identification. This is critical when dealing with a firearm in order to minimize accidental injuries.
Now to the top 6 list
These items are a mix of lights only, lasers only and combo units that incorporate a laser and a light in the same unit. For the most part they are intended for use on hand guns though several can be affixed to other devices as well.
The first item on the list is a light only. The Surfire X300 Ultra – Creates a 1000 Lumen focused beam of light and some surround light for peripheral vision. This light features a rail mount system helping to ensure that it will stay firmly in place and can be activated from either side of the light.This switch can either be in a temp on or a continuous on by moving the switch or simply holding it down. This is a great light for hand guns and due to its rail system it can be used on any hand gun that contains a rail mount.
You can find more details and pick one up for your self on Amazon , Optics Planet or Going Gear.
The next selection is a laser sight only. The Crimson Trace Defender features a rail mount making it nearly universal for any hand gun that features a rail system. This laser features an ambidextrous switch and a red beam. The system comes pre-sighted out to 50 feet. Though it is recommended to verify and adjust if necessary upon installing the item.
From what I could tell this one is only available on Optics Planet. It is currently 50% off, making it come in well below $100. Though you can find an additional selection of Crimson Trace sights on Amazon.
The third option on this list is the first of the combo options. The Streamlight TLR-6 features a Light as well as a red laser to ensure quick target acquisition. These are designed to fit specific guns and you will need to make sure to match your model to the one that your purchase. However, this ensures a more accurate fit and less chance of the device moving around once installed.
You can find one at Optics Planet. Along with a list of which weapons it fits as well as nearly every version on Amazon. Again make sure to match it to your weapon.
This is another great choice. It is designed to be universal to nearly any Picatinny rail system and features a low profile so that it fits more weapons. The laser comes in either red or green which is a nice option. Additionally the light features an output of 500 Lumens and has a strobe feature if you prefer that option.
You can check out Optics Planet or Amazon to see more reviews and pictures.
The Olight Baldr Pro is another Combo light and laser from a lesser known company. However, the performance is superb, the light easily attaches to a Picatinny rail system and is IPX4 waterproof rated. The output of the light can be set to a stead 300 lumen or a 1300 lumen burst. The laser is green which enables it to be clearly seen in day or night conditions. Additionally the switch is Ambidextrous allowing easy operation. This device is powered by two CR123 batteries meaning they are easy to obtain.
This item can be purchased on GoingGear.Com or Amazon.com
This is another offering from Balor. This one features an ultra bright 1100 lumen white light with a red laser. It shares many of the features of the above listed Pro version; such as an ambidextrous switch. Picatinny rail mounts and battery style. The main difference lies in the slightly weaker light and red laser instead of the green. Many people find red lasers harder to see in brightly lit areas such as daylight. However, these trades cause this item to be slightly less expensive than the pro version.
You can check out more details and pick one up if you choose to do so on Amazon or Goinggear.com

Weapon Lights and Laser Sights – Fitting
One thing to keep in mind with selecting a light or sight is how you plan on carrying the weapon. Most states require that the weapon be carried in a holster and that is generally preferred anyway. You will want to make sure that the weapon and light combo will fit in the holster you have. If not you will need to purchase one designed to accept that combination. The Safariland Holster Finder can help with that.
I hope you found this short review useful and if so please sign up for our newsletter. By doing so you will receive exclusive discount codes as well as early access many of our articles and reviews.