Where Can I Get Maca Dutch Ovens? What Is the Best Alternative Option?
The Original Maca Dutch Ovens
At one point, the Maca Dutch oven was the preferred choice for extremely large dutch ovens. It had closed the gap and was considered among the best brands such as Griswold, Lodge and even Wagner. It stood at the top when it came to oversized cast iron Dutch Ovens. In most cases, the Maca Dutch Ovens dwarfed all of the others in size. Due to its size, the Maca brand dutch ovens were highly sought for cooking meals for large gatherings.. 
In 2013 Maca Supply indicated they had stopped production of their dutch ovens. Leaving many disappointed in this turn of events.
Recently I was scouring the web looking for a similar style and size. I discovered that ahappycamper.com custom orders small quantities of these ovens. Generally they are only ordered in lots of 15. You can purchase them there by signing up to get on a waiting list.
However, if you do not want to wait then maybe another brand will meet your needs. 
Gift Ideas for Survivalists and Preppers
Here Is a List of Similar Sized Dutch Ovens
The largest capacity that I could find was 20 quarts. This does not compete with some of the insane sizes of the Original Maca Dutch ovens where the 22 inch model weighed in at a whopping 160lbs and could hold a staggering 45 quarts.
However, for most uses these will be more than sufficient. When looking for a dutch oven for large groups consider the number of people you plan to feed. An ideal size is generally considered 1 quart of capacity for each guest. This will ensure there is enough food for everyone.
Moose Country Gear 16-Quart Cast iron Dutch Oven With Legs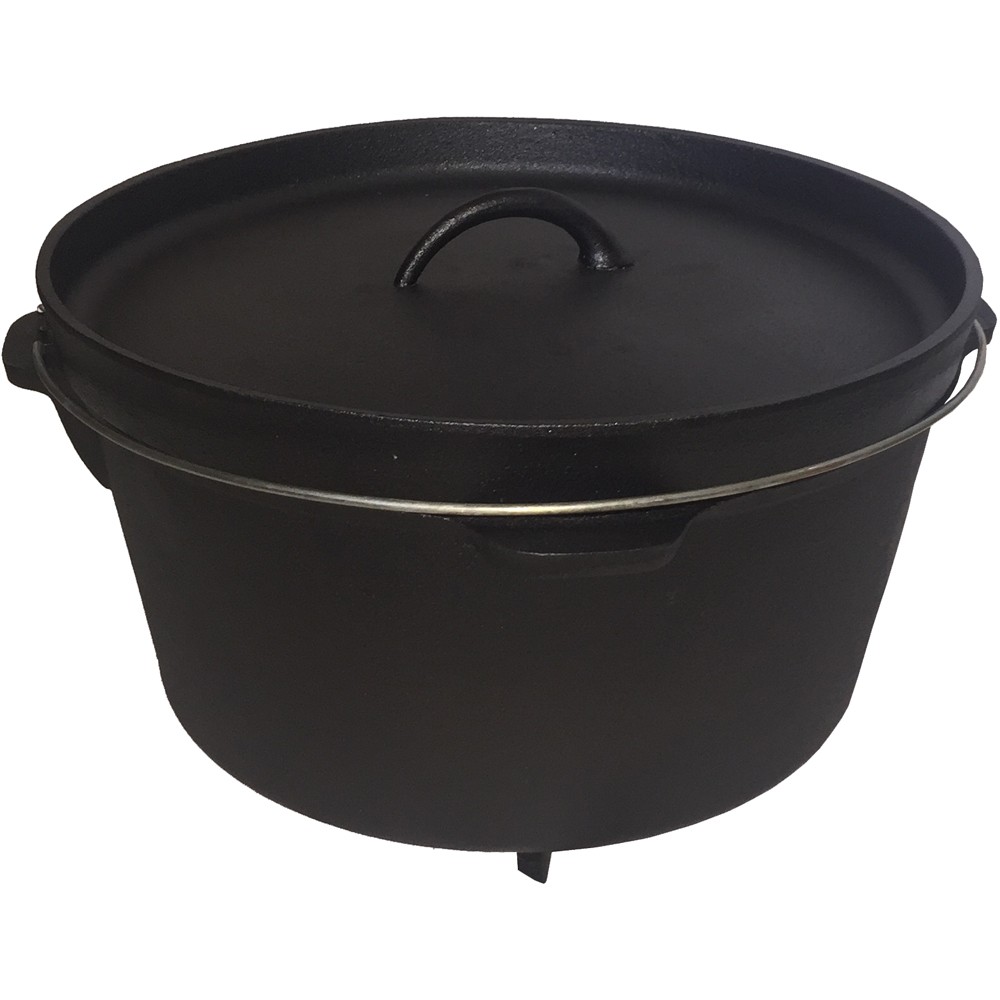 The Moose Country 16 quart is a very large dutch oven made from durable cast iron. It comes pre seasoned from the factory to prevent rust and provide some nonstick capability. Featuring internal dimensions of 16.4 inches by 13.5 inches and standing 8 inches tall this dutch oven has ample room to feed a large group. 
It is designed primarily for use outdoors. The Moose Country 16 Quart features a lipped lid that allows you place coals on top of it without fear that they will fall into the pot when the lid is removed. Additionally you can flip the lid upside down and use its flat inner surface as a griddle if you choose.
At the time of this posting, Campingmaxx.com was running a special where if you purchase 2 you can save 50%. 
King Kooker 20-Quart CI20S Pre-Seasoned Cast Iron Dutch Oven
The King Kooker 20-Quart was one of the largest models I found. It comes in at 36 lbs and is capable of holding 20 quarts. This large dutch oven would be ideal for large groups of 12 to 20 people, possibly even more if you are cooking more than one dish. The dimensions on this whopper are 18 inches across and a height of 8 inches.
You can find this on Amazon.comAd by following the link
Texsport Cast Iron 20 qt Dutch Oven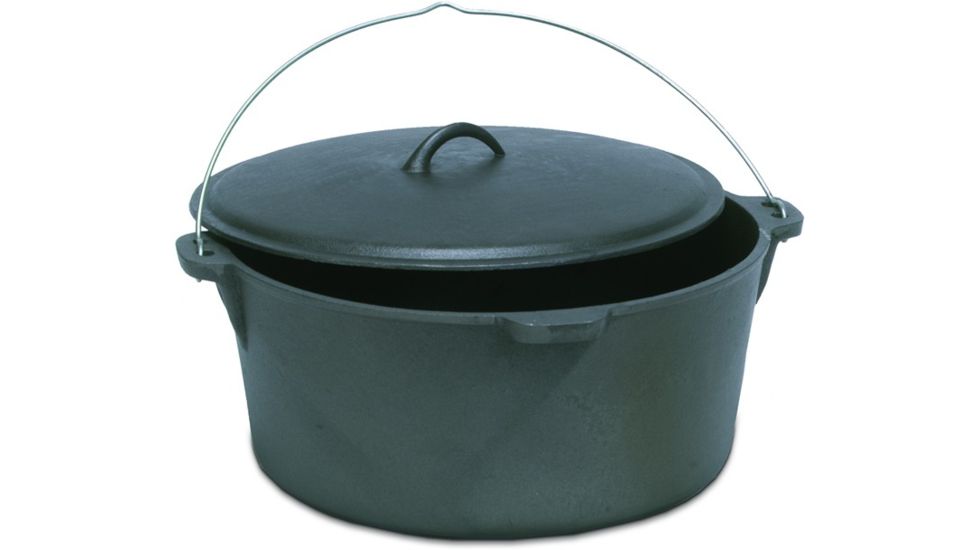 The Texsport 20 Quart Dutch Oven is ideal if you want a dutch oven you can use indoors and outdoors. It does not have legs which makes it possible to cook with it on a normal indoor stove or for it to be used in the oven.
The Texsport is similiar in size to the King Kooker and is available at OpticsPlanet.com. At the time of this article they were offering 18% off and free shipping on this particular model.
Lodge 8 Quart Deep Camp Dutch Oven
Lodge manufacturing was begun in 1896 and has remained one of the most trusted manufacturers of cast iron cookware since that time. Made exclusively in the USA and depends on by thousands the Lodge brand is one you can trust.
This Lodge 8 Quart Oven is ideal for smaller groups. Its eight quart size makes it perfect for groups of 4 to 8 people. This model is designed for outside use, featuring legs and the lipped lid that allows you to place coals on top. It is light enough to be hung from a tripod or other cooking stand and small enough to be taken on camping trips.
Check out the other reviews on Amazon.comAd where it qualifies for free shipping.