This Is Hands down the Best Sleeping Bag for Cold Weather Backpacking
Now that we are in the full swing of winter you may be thinking that it is too cold for that weekend hike and camping trip. However, with the proper gear cold weather does not have to bring your outdoor fun to a grinding halt. After testing out dozens of sleeping bags over the years I have finally found one that is perfect for cold weather backpacking.
As you already know backpacking requires that your equipment be light and compact, however in the winter this can become difficult due to the need for extra insulation. You may remember the super heavy quilts and blankets of your childhood. (I still think I preferred the heavy quilt on a cold night when at home though. Something about the weight I think.)
Anyway with advances in fabric materials sleeping bags have become more compact and provide better insulation. This has led to great leaps in their comfort and portability. With winter backpacking in mind I tried several different sleeping bags and settled on the Hyke & Byke Katahdin 4 Season Mummy Bag as my preferred choice.
Keep reading to see my review of the Hyke & Byke Katahdin 4 Season Mummy Bag.
Why Did I Choose the Hyke & Byke Katahdin as the Best Sleeping Bag for Cold Weather Backpacking?
There were several reasons why I felt this was the best option after trying out numerous bags. These included:
Size of the bag when packed
Size inside when in use
Weight
Comfort 
Temperature ratings
Finally Cost
Size Matters – Especially When Backpacking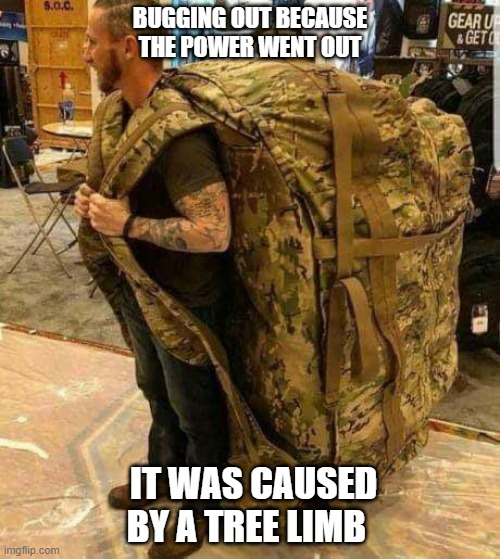 When you are carrying everything you need on your back then space becomes a major consideration. While the Hyke & Byke Katahdin is not necessarily the smallest option it does come in at a reasonable 8 inches by 11 inches when packed in its compression sack. 
Keep in mind though that it should not be stored fully compressed for long periods of time. So when you get home loosen its sack a bit to allow it to fluff up. This will help to prolong the life of your bags fill. 
If Ounces Matter, Pounds Can Drag You Down 
Weight is an important topic as well. When you are selecting gear that shaves off ounces her and there such as choosing aluminum over stainless steel then you should not neglect considering weight on your sleep system.
While the Katahdin Mummy does weigh more than some options, if you consider its price point, thermal ratings and size the total weight of 3.54 pounds for the regular bag and 3.91 pounds for the long bag is very reasonable. 
Can I Fit, Can You Fit?
Normally I am not a fan of mummy style sleeping bags. This stems mainly from the fact that I am 6'2 and about 270 lbs. I often find them to be constricting and can tend to make me feel a bit claustrophobic. 
However, with the Hyke & Byke Katahdin being sold in three sizes I was able to find one that remains comfortable for me. 
You have the option of a short bag that is designed for those individuals who are shorter than 5'6". The short bag weighs only 3.22 lbs and of course packs slightly smaller than the larger bags. 
The regular sized bag comes is intended for individuals 6'0" or less and weighs 3.54lbs. While the long bag is their largest option and fits individuals up to 6'6" tall with a total bag weight of 3.91lbs.
| | | | |
| --- | --- | --- | --- |
| Size | Short | Regular | Long |
| Height | 5'6″ | 6'0″ | 6'6″ |
| Weight | 3.22lb | 3.54lb | 3.92lb |
Available in 3 sizes for better fit
I suggest that unless you are considerably smaller than the max that you opt for the next size up. This will help to ensure you have some movement space inside of the bag. 
What, You Don't like Sleeping on Sandpaper?
Comfort is always a concern when selecting any gear, obviously weights etc plays a part in this as well as every minor detail can affect the comfort you have on your trip. However, here I am talking solely about the feel of the fabric and the experience of sleeping in the bag.
Some bags can feel scratchy if layered on the inside with wool while others can feel almost sticky due to the plastic like material they are lined with. Neither of these were an issue with the Katahdin by Hyke & Byke. 
The outer fabric seemed durable enough and did an excellent job of stopping the wind and minor feeling of dew that you get in the early morning if sleeping without a shelter. 
The inner fabric was comfortable to the touch and while I can't exactly describe the texture it reminded me of the early Under Armour brand shirts. 
While a sleeping pad is recommended I was comfortable enough sleeping on a patch of grass that did not have any rocks. All in all this is one of the more comfortable bags that I have used. 
Is It Too Cold? Someone Left the Heat On
Hyke & Byke took the temperature rating a step further than most companies do. They provided three different ratings. An extreme thermal rating of 0 degrees fahrenheit, a low end tolerable rating of 10 degrees fahrenheit and a comfort level of 32 degrees fahrenheit they attempted to make it clear how the bag would perform in various temperatures. 
Most companies only provide the extreme temperature and this leaves customers complaining that they froze in the bag at temperatures far above that. I normally add about twenty degrees to whatever the company claims the max temperature is and find that is often about where the bag is comfortable.
With that in mind, I fully expected this bag to be comfortable to me at around 25 degrees. The opportunity presented itself for me to test the bag on a night when the low was 18 degrees fahrenheit. Not only did the bag keep me warm but it was necessary for me to slightly open the zipper and allow a bit more air into the bag. 
Now don't get me wrong the bag breathes just fine and there were no signs of building up moisture from sweat inside of the bag, I just prefer a bit cooler temperatures when sleeping. By unzipping the bag about six inches I was able to let in just enough air to be comfortable.
The Cost of the Katahdin 4 Season
Unless you have a money tree growing in your backyard (and if you do can I have some seeds) cost is frequently a factor in any purchases that you make. Again the Hyke & Byke Kathadin was not the cheapest bag on the market, but often you get what you pay for. Coming in at just over $100 (Check Current Price on Amazon) this was a reasonable price point for the level of quality you get. I would not hesitate to make the purchase again.
Were There Any Negatives to This Sleeping Bag?
When I was initially looking to purchase a new sleeping bag, I noticed a few reviews that complained about the distribution of the fill within this model. However, I saw plenty of positive reviews that indicated they did not have any issues. I decided to go ahead and make the purchase. Upon receiving my bag everything appeared evenly spread throughout the bag and I did not notice any cold spots.
For some colors might be an issue. Coming in only green and grey they can't really compete with the purples and camos found in other bags. However for me this was not a concern as I actually like the green bag.
All kidding aside, the main drawback that I found is the fact that you cannot leave the bag compressed in its stuff sack for extended periods. Due to the synthetic fill they use if it remains compressed for extended times it can cause the fill to perform at a reduced capacity if it is compacted too tightly and left that way.
A simple way around this issue and what you should be doing anyway is removing the bag from its stuff sack when you return home and hanging it in a closet area or other space where it can air out. Once that is done you can pack it back in its stuff sack, just do not compress it beyond the point necessary to close the sack. This will prevent one, odors, and two the fibers becoming too compressed. 
---
Need Protection in colder weather consider the Litume All Season Sleeping Bag Liner – Quickly add an additional 25 degrees of protection to your sleep system.
---
In Summary
After all of the info I presented, it is easy for you to see why I consider this to be the best if not one of the best sleeping bags for cold weather backpacking. As always each person will rate anyone of these qualities with their own preference point, and this just happens to be my pick. While you are here, make sure to sign up for our newsletter in order to receive more gear reviews and the latest blog posts. 
There are also several other articles related to cold weather hiking that you may find interesting. These include 11 Tips For Hiking in The Snow and What You Should Do If You are Caught In a Blizzard among others. Stay awhile and look around.